Posted On: November 25, 2020
The 10 Best Portable Solar Panels Today
Today, convenient access to technology at all times isn't just a nicety, it's a necessity. Maybe the COVID-19 pandemic has left you with free time to take the solo RV trip you always wanted, or maybe it's got you working remotely and on-the-go. Regardless of your new routine, it's imperative to have a portable source of energy wherever life takes you.
You may have already installed a home solar system – now that your home energy needs have been met with a sustainable solution, it's time to take your solar energy on the go! Small, portable solar panels are one of the greatest options for providing power on the go – no outlets needed, just find a sunny spot and get to charging! However, buying the right solar panel to suit your needs can get complicated. There are so many models out there with a variety of different features and specs, and it can get quickly overwhelming sifting through product after product.
While a solar panel's voltage and power is very important, these aren't the only specs you should consider. What matters is what the product can do to align with your purposes. Hopefully after reading this top 10 list, you will have an idea of what you're looking for when you go to buy your small solar panel.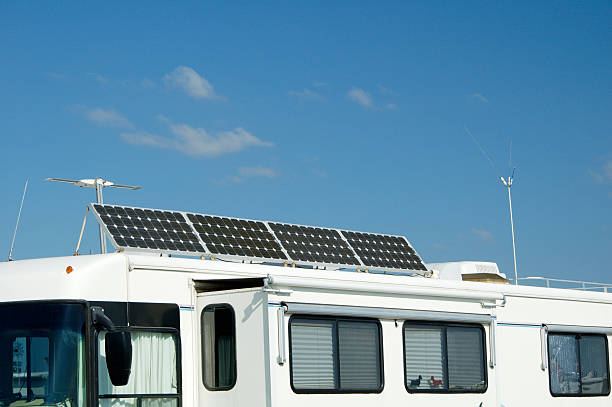 Uses for Portable Solar Panels
When selecting a solar panel, the most important question you have to ask yourself is "what do I need this for?" Of course, you're looking for a small, portable setup that can power devices on the go – but your own power requirements will ultimately drive your decision.
If you're simply looking to keep your phone and small appliances powered, you probably don't need the largest and most high powered small panel on this list. Going in with a clear idea of your needs will help to make the buying process as painless as possible.
Solar panels are beneficial for those who like to go camping or spend most of their time on the road. Many small solar panels can generate enough voltage to power all electric components of an RV or full-sized van. Even if you're just pitching a tent in the backyard, it always comes in handy to have a power source for the entire family to power up their devices with extra juice to spare.
What Should I Look For In A Portable Solar Panel Unit?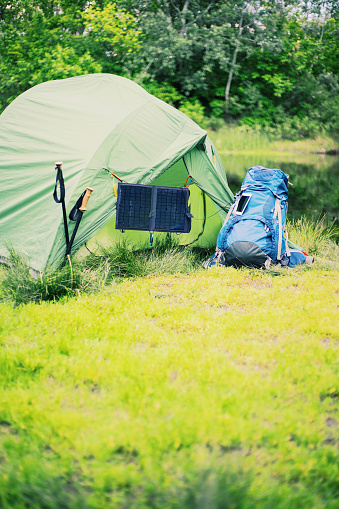 There are several factors you should consider when selecting between portable solar panels. Assessing each of these factors will help set you on the right track to finding the right product for you:
Efficiency – Certain cells simply do a better job than others at absorbing sunlight. Check a panel's product specs for its Module Efficiency rating, which displays the percentage of sunlight absorbed by your panel that is converted into usable electricity.
Power – If you have an RV or full-sized van with lots of appliances and gadgets, you're going to require a lot of power on hand at all times. Solar panel power is measured by volts, amps, and wattage, which are also displayed in the product specs – the higher these values, the more power output capabilities.
Durability – This factor is often overlooked, but solar panel durability is among the most important things to consider when purchasing a new unit. After all, a solar panel unit is going to be outside, and it will be subject to all kinds of exposure from the elements. Nobody wants a unit that will break easily after a little bit of wear and tear.
Other than these main factors, we know that many value aesthetics and personal preference. Though we recommend that you base your decision off of your needs and product specs, we know that the visual component can be an important part of the buying process. Here is our top ten of the strongest and most efficient small solar panels on the market today:
Our Top Ten Portable Solar Panels
If you search for smaller solar panels online, it's almost impossible to find a site that isn't praising this unit. The Renogy Starter Kit practically provides most, if not all of the accessories and features one could want from their solar unit.
Part of the reason why this is such a good device is that it is flat out powerful. This kit can produce up to 400W of electricity – that's enough for your RV, motorhome, boat, cabin, or just about anything else you would need to power.
The other reason why this is such a highly praised product is due to all the other accessories you receive with this package. The Renogy Starter Kit comes with a negative ground charger pack, parts to assemble a mount for the panel, and an adaptor kit with cables to connect to just about anything.
This SunPower kit is another incredibly powerful unit. These solar panels use Maxeon cells, which are among the most efficient cells in solar power today (24% efficiency). What is surprising is that, compared to other powerful solar panels that tend to be a little heavy, SunPower solar panels are quite light (4.4 lbs). It's gonna be a lot easier carrying this on your camping trip rather than some of these other units that weigh 30-40lbs.
SunPower panels are also very durable. This is great for the outdoors, since it won't snap in half if it's dropped from a considerable height or is mishandled. Furthermore, the Maxeon cells are also ranked highly in durability. So, if you're outside and an unexpected storm rolls around, this unit won't break.
This model is best suited for those mobile warriors who are away from home a lot and simply can't afford to have their phone die. The BigBlue is compatible with IPhone, Samsung Galaxy, LG, and most other smartphones.
Not only is it good for phone charging, the BigBlue Solar Charger also offers amazing utility. It has foldable cells, which means it can easily fold to fit in a backpack, purse or emergency kit. It's also got rugged construction – the BigBlue has been tested in mountainous climates, and it's completely waterproof. This unit ensures that no matter where you're at, you can provide ample power to your devices.
The Zamp Solar kit features some technology that is unique in comparison to the rest of the industry. Not only does it feature a monocrystalline format for a more efficient energy flow, but it also has an anti-reflective system.
All of this means that its efficiency in sunlight absorption is higher than other units. As such, it can power appliances even under cloudy or foggy weather. The Zamp Solar kit can generate 30-40 amperes a day, which is enough for a typical RV. It comes with a leg stand and a bag that makes it easy to carry around.
The Anker Charger is similar to the BigBlue, with one less USB port. But, this device makes up for one less port with its superior power output and durability. The Anker can generate up to 3 amps in good sunlight. This will charge up your phone quicker than plugging it in to the average wall outlet or power strip.
This unit is encased in polymer faces that adds to its durability, allowing it to maintain full function in harsh weather conditions. It also has eyes-holes on the corners, which means that it can attach to objects like backpacks or even trees. You can leave this product alone while your phone charges without having to carry it around in your hands.
As the name implies, The Goal Zero Boulder model is an impressively strong unit. It features the high quality monocrystalline format that so many other great units have, and it's also made with lightweight, durable aluminum. This product is also advertised as weatherproof – leave it out in the elements, and you'll still get the function that you need. The Boulder 100 Briefcase is made to rest on its kickstand and be left to run without having to worry about what's going to happen to it.
The Eco-Worthy has the best of both worlds – it's both durable and lightweight. Its frame is made of heavy duty aluminum, which will allow it to survive most blunt impacts without damaging.
Despite its strong construction, the Eco-Worthy is surprisingly light at only 2 lbs. It also features foldable panels, so you can fit it in the back of your truck with ease. It also comes with a built in kickstand, which means less assembly for you. Despite its size, this product can get up to 40W of power.
Coming in as the most durable heavyweight yet – the HQST solar panel kit is basically a tank. It is encased in an anti-reflective, iron-tempered glass that can withstand quite a bit of punishment. Harsh weather conditions like rain, snow, and even falling debris won't have a major effect on it.
As a result, this unit has one of the longest lifespans of other solar panels. It's built to continue to operate long periods of time. This product will last years down the road, making it a great investment for individuals or families who make camping a regular activity. Despite its sturdy construction, the HQST panel only weighs 16.5 lbs. This panel is measured to produce up to 100 watts of voltage.
This unit is one of the more powerful solar panels in this list. Producing up to 120 watts, you'll never have to worry about your mobile home running out of power with this product. It only weighs under 29 lbs, and comes in a convenient case. Anyone looking for a strong unit to operate at a high power output is going to be happy with this unit.
The BLAVOR unit performs a similar function to the Anker and the BigBlue. However, this unit is unique in that it features detachable magnetic solar panels. You can pull this thing apart and easily put it back together in no time at all. It also supports phones that have magnetic charging capability.
The BLAVOR can also double as a flashlight in dark conditions. For phones without the magnetic charging capability, it still has 2 USB ports for traditional charging. Consider picking up the BLAVOR solar panel if you're a consistent mobile device user who can appreciate multifunctionality in their charging device.
Summary
The solar panel industry has grown considerably in the past ten years, and new small-scale solar products can service our power needs more efficiently than ever before. From magnetic folds to cells that can charge efficiently even under cloud coverage, portable solar panels have evolved considerably. Thankfully, consistent innovation and affordable prices means that the consumer is the biggest winner here.
Looking For A Larger Solar Power System?
If your solar needs require more power than a typical portable solar panel is able to provide, you're in the right place here at Harness Power. Harness has handled the installation of solar power systems for over 5,000 customers in 15 states. Contact us today to inquire about our installation services for commercial or home solar power systems, panels, and batteries.